About Stonecroft Wines
STONECROFT was established in 1982 and is a family owned winery making only Gimblett Gravels, organic wines.  We are best known for Syrah (having the oldest Syrah vine in New Zealand), Other varieties planted are Cabernet Sauvignon, Merlot, Zinfandel, Gewurtraminer, Chardonnay and Viognier.
Stonencroft is tiny, making around 2000 cases of wine per annum.  Traditional methods are used and both the two small vineyards and the winery are certified organic. At Stonecroft we seek to express the unique character of our vineyards and each vineyard. Our intention is to make wines which are intense, elegant and fruit-driven, but capable of significant bottle development. The ability of our wines to improve in bottle has been demonstrated over more than 30 years, with many early examples still drinking well.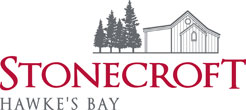 Year First Grapes Crushed
1987
Own Vineyard GGWD
7.8 Hectares
Varieties
Chardonnay, Gewurztraminer, Merlot, Cabernet Sauvignon, Syrah, Zinfandel
Sales/Tastings
Export, retail, mailorder and cellar door
Winemaker
Dermot McCollum
Stonecroft Wines
121 Mere Road, RD 5 Hastings, Hawke's Bay
2352 State Highway 50, RD 5 Hastings, Hawke's Bay
Phone: (06) 6 879 9610
www.stonecroft.co.nz
Email:
Click here